Westca.com provides powerful business website system (RealtorSun System) for Real Estate Industry. It offers a one-stop web solutions including domain name registry, website hosting, website construction, Content Manage System and a series of useful functions. The following is main features of RealtorSun System:

• Supporting three kinds of languages in English, Simplified and Traditional Chinese. Easy to extend to support more languages such as French, Japanese, Korean etc;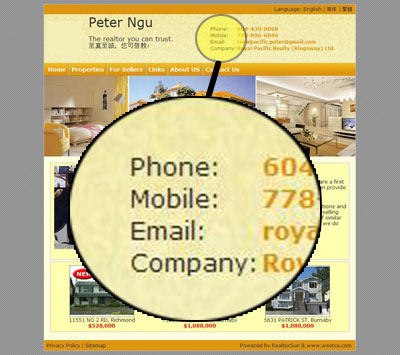 • Content Manage System also supports three kinds of languages in English, Simplified Chinese and Traditional Chinese which make it convenient to manage and maintain website;

• Powerful map feature to display map directly for web page of property and make readers able to view all properties on the map;

• Using Search Engine Optimization(SEO) technology to make your website search engine friendly with Google, Yahoo ,MSN and greatly increase traffic for your website;

• Providing a variety of templates for user interface and custom template design feature which will make your website look unique and personalized;

• Advanced web design and optimization techniques bring high effectiveness to your website and ensure your website running with high speed, security and incredible stability even with high traffic;

• Professional development team always use cutting edge technology to make your website more powerful and continually upgrade your website;

• Excellent custom service and technical support to ensure your website is up and running 24 x7;

• Providing effective ways to promote your website and increase exposure for your property and posting your property to the hottest House Centre on Westca.com for free;

As the biggest Chinese portal website in Canada, Westca.com has the following advantages in web design and web development:

• Strong combination of advanced web technology and years of web design experience with large scale website;

• Specialized in web optimization technology to increase the effectiveness and speed of your website greatly;

• Comprehensive web security and information security technology to ensure your website running avoid downtime;

The RealtorSun System will help Realtors to create their professional business website with low cost.

Published on: 2006-10-23
Copyright © by RealtorSun (Whole solution for realtor's personal website) All Right Reserved.